Benefits of the
Beacon Zone
The Beacon Network Schools Innovation Zone will empower member schools with collective flexibilities and resources, supporting teachers and leaders to learn, grow and excel together and providing community ownership and involvement, in order to codify and sustain the Beacon Model to improve outcomes for all students.
Innovation Zones have an independent, community-based nonprofit organization that helps coordinate work across the schools in a Zone. An Innovation Zone nonprofit may have one or more employees to do work to support all (or some) of the schools in the Zone. See here for the organization's form 990.
What is an 
Innovation School?
Passed in 2008, the Innovation Schools Act provides a pathway for schools to develop practices to better meet the needs of individual students, allowing sites more autonomy to make decisions at the school-level. Innovation status must be approved by a local school board and the Colorado Department of Education through a multi-faceted application process.
BNS's innovation plan allows for:
A more rigorous college prep curriculum,
Blended learning with technology-based instruction, applications, and assessments,
A system for frequently analyzing student data, and
Research-based interventions that result in high growth and achievement.
Culture Drives our Performance 
Growth Mindset Creates our Solutions
Our Teams Lead Our Transformation 
Blended Learning is Our Path to Personalization
Data Informs Our Instruction 
Social Emotional Learning Builds Our Character
Rich and Varied Learning Experiences Motivate Us
Beacon Network Schools students will be among the highest in academic growth in the state, will be well-rounded in their interests and abilities, and will be recognized in the community for outstanding leadership.
Beacon Schools are committed to the high achievement and growth of every student, providing a college preparatory program of study that sets high expectations and requires critical thinking and problem solving skills.  Through the integration of technology and collaborative work of students, staff, families, and community partners, BNS will bring together its neighborhoods' diverse communities and prepare students with the academic knowledge and 21st century leadership skills necessary for college and career success.
Student-Centered:
We foster Personalized Learning Environments where students own their education.
Growth Mindset: 
We relentlessly pursue improvement of our practice. 
Relationships: 
We are here for our students and each other.  
Happiness: 
We don't just work, we have fun because we are valued.
ALEX
MAGAñA
Executive Director of Beacon Network Schools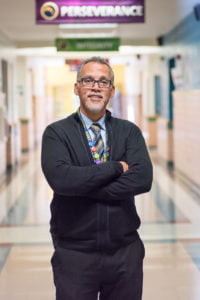 I am honored to be one of the first Executive Director in Denver Public Schools. I welcome the opportunity to continue to build on the academic achievements we have made at GBMS and to set KBMS on a similar road to success.
The structure we provide within the Beacon Network prompts our students to become engaged achievers who are eager to learn. They are prepared to move on to high school, college, and career.
We attribute much of our success to the outstanding quality of our teachers and to community partnerships with parents, individuals, businesses, and non-profit organizations. These partnerships allow us to offer a variety of enrichments that students may not otherwise experience. These programs help young people learn about topics that sometimes become lifelong passions such as; science and technology, art, dance, and sports. These partnerships also provide valuable family support and bring additional resources to the school that enhance our curriculum. We urge you to consider becoming a partner or a donor to the Beacon Network. Join us by making an investment in the future of our students.
If you would like to learn more about the Beacon Network or have any questions or ideas, please don't hesitate to contact me.
Alex Magaña
Executive Prinicpal