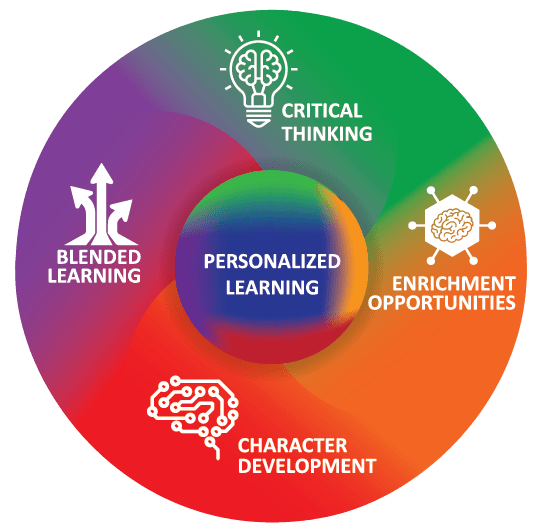 Pillars of
Personalized Learning
Developed by the founding Beacon Network staff, these four pillars are the foundation of our curriculum as we seek to meet the individual needs of the student and maximize the potential of each learner within a dynamic, engaging, comprehensive learning environment. 
Blended 
Learning
By intentionally partnering instructional time in the classroom with ongoing access to technology, students are provided with a personalized learning platform capable of meeting their individual academic needs. Additionally, our blended learning model affords learners the opportunity to take ownership of their experience by promoting both their voice and their choice. Student growth and achievement is measured frequently by our staff with research-based assessments, and students understand and intentionally track their individual performance.
Enrichment
Opportunities
Increasing students' exposure to learning opportunities beyond the traditional academic setting, BNS provides all learners with high quality, comprehensive experiences as part of the weekly academic schedule. These offerings include classes in five unique categories: S.T.E.M, Health & Athletics, Arts & Culture, Leadership, and Academics. This invaluable time allows our students to learn from and work with high quality instructors through formal community partnerships.
"When school-aged and teens do not have access to such programming and are left unsupervised, they are more likely to receive poor grades, drop out of school, and engage in high-risk behaviors than children who participate in constructive activities supervised by responsible adults."
Over
60+
Enrichments
Offered
Students Pick
1
Per Quarter
S.T.E.M.

30%

30%

Arts and Culture

30%

30%

Leadership

15%

15%

Wellness and Sports

15%

15%

Academics

10%

10%
CHARACTER
DEVELOPMENT
Committed to the total development of our students, Beacon Network's educational programming includes a strong focus on character traits that influence one's success professionally and personally.
Weekly, students who demonstrate one of the Beacon Character Traits are recognized at the grade level community meetings.  Students are tasked with displaying a strong commitment to behaviors that reflect Leadership, Perseverance, Integrity, Curiosity, and Kindness.
Leadership
By taking intiative to contribute to best outcomes for themselves as well as the greater good, Beacon students work to develop leadership qualities in a variety of settings. Students nurture these abilities in themselves and others in order to make a meaningful impact within the community.
Perseverance
Beacon students demonstrate the ability to establish goals and work consistently in to overcome challenges, even after experiencing difficulty or failure. By developing persistence, learners understand the importance of dismantling barriers and continuing to pursue their goals even in the face of adversity.
Integrity
Beacon students display an intrinsic motivation to be honest and fair in their consideration and regard for self, others, and community. The development of a strong moral compass is a critical part of the comprehensive educational process.
Curiosity
In order to discover and expand the individual's thinking, Beacon students exemplify a desire to learn and demonstrate initiative when exploring new concepts and ideas. 
Kindness
Our students exhibit friendliness, empathy, generosity, and consideration.
Critical 
Thinking
Through analysis, inquiry, and evaluation, students discover the importance of utilizing factual information to develop a solid argument, draw a thoughtful conclusion, or resolve a complex issue. This important, universal skill of critical thinking assists our Beacon learners far beyond their middle school years.